A UK man who has devoted his life towards learning Chinese language and culture has been repaid for his efforts by having his face used to represent the "foreign male scum" that young, impressionable Chinese women should be wary of.
An online publication called CollegeDaily.cn used a photo of a Briton named "Jackson" as part of their article titled "Female overseas students: Stay far away from these foreign male scum!"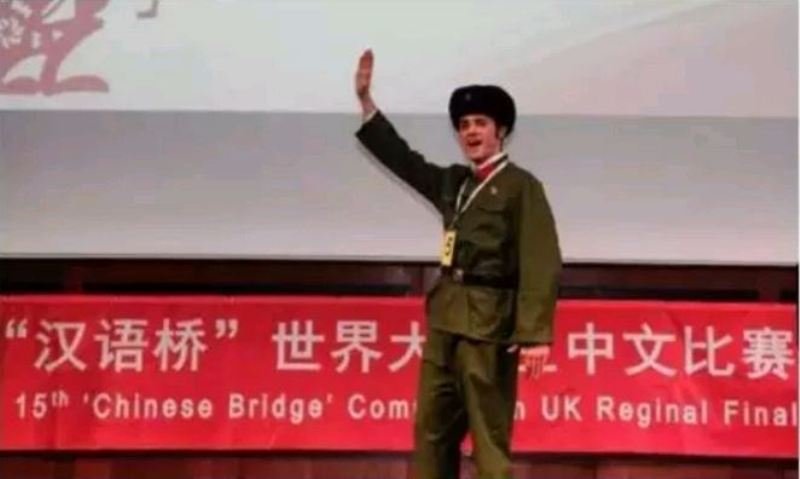 The photo, which shows Jackson performing on a stage wearing a Chinese soldier's uniform (shown above), is accompanied by the following text:
These foreign male scum … will use a few words of poorly learnt Chinese to worm their way into your confidence … By using these charming words, they will make you (female university students) relax your defenses.
The article warns Chinese women that foreign men are unscrupulous and are willing to do anything to win over a girl. One example provided by the article is an unnamed Frenchman who dumped his Chinese exchange student girlfriend after taking wedding photos with her.
College Daily also wrote that foreign men liked by Chinese women don't usually have any redeeming qualities, but instead rely on "their foreign faces as being their best quality."
As seen in the article, exchange students are warned against falling for sleezy bar pick-up lines such as "The sweet drink for the one and only sweetest you."
Jackson's photo is used alongside photos belonging to convicted felons like Isaac J. Campbell (seen above), who was sentenced to 11 years in jail for killing his Chinese exchange student girlfriend Lu Yiya in 2007.
Not pleased with being associated with criminals, Jackson has enlisted legal aid in China. Through the help of Chinese lawyer and friend Wu Jieshi, Jackson has asked the publishers of College Daily for three things: to delete the article within two days, a signed public apology, and RMB 1,000 in compensation.
After initial negotiations, CollegeDaily.cn was only willing to accede to the first point. Unfortunately for Jackson, the article can still be found scattered throughout the Chinese internet a week after its publication, which has already gone viral with 100,000 views.
Even worse, no one from CollegeDaily.cn is willing to speak to Jackson anymore. An editor named Peter and a PR representative named Tiffany, who have deferred the responsibility to each other, have disappeared in the week following the scandal. With no other option, Wu Jieshi is appealing to the public for help through a blog.
Even though the College Daily article ridicules foreigners for the heavy accents, other photos from the same event show that Jackson won a special award for his performance: The 2016 Ambassador of Chinese Tourism Promotions in the UK (below).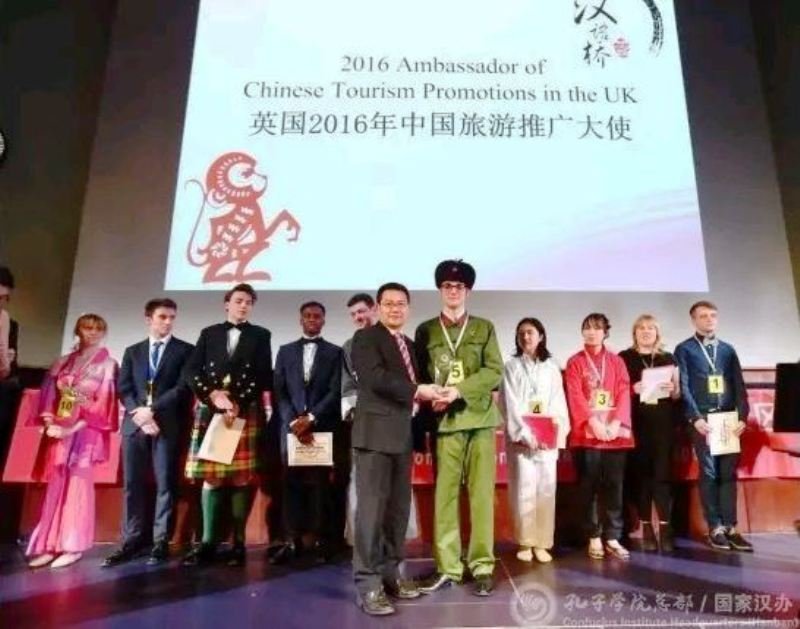 Jackson became fluent in Chinese by studying at a London university before participating in a "Chinese Bridge" cultural exchange program.
The Chinese trend of studying abroad is progressively involving more students at younger ages. However, recent events have caused some Chinese to harbor a sense of apprehension about the world beyond China's borders.
Last week saw the beginning of a sensational murder trial of a UK man accused of brutally killing his Chinese girlfriend. Jordan Matthews, 23, is accused of killing 24-year-old university exchange student Bi Xixi, reportedly the daughter of a Yunrun CEO who came to study in the UK at the age of 15.
A German couple made international headlines last fall when they were arrested for the brutal rape and murder of 25-year-old Chinese exchange student Li Yangjie.
Causing a stir on the Chinese internet last year was the horrific slaying of 27-year-old Chinese exchange student Michelle Leng, found floating naked in open Australian waters suffering over 30 stab wounds. Leng's 27-year-old uncle Derek Barret was charged for her murder a week afterwards.
College Daily has written about "foreign scum" before, notably about international "pick-up artist" David Campbell who enraged the Chinese Internet with videos demonstrating his numerous conquests throughout Asia.